All You Need to Know to Create a Cozy Cottage Home

Cottage-style homes are cozy spaces that make you feel at home. They exude a welcoming atmosphere and make you feel snug and relaxed. Typically, these homes feature a quaint aesthetic with elements like steeply pitched roofs, symmetrical windows, vertical wood siding, and a deck or porch overlooking the entire front of the house. Inside, charming details like warm wood finishes and bright, airy accents make the home even more inviting. These homes tend to feature less open space in favor of cozy nooks and separate rooms that encourage a harmonious lifestyle. They often incorporate charming details such as bay windows, shutters, exposed wood beams, deep window sills, and plank walls. Combined with bright colors, various building materials, and classic accessories, cottage-style homes are charming, vibrant, and homey, perfect for a retreat from the hustle and bustle of daily life.
Let's take a walk together through an example of a cottage-style home!
Kitchen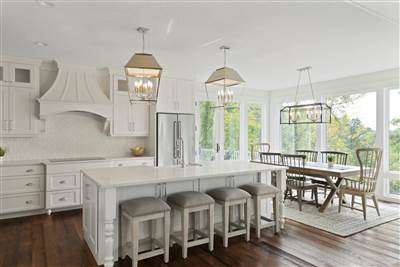 Cottage-style kitchens typically have an inviting warmth and rustic charm to them. They often feature shaker or beadboard cabinets that are light in color, and can be complemented by countertops such as quartz, butcher block, or soapstone. Antique collectables, vintage prints, and hand-painted tiles can be found throughout the room, giving the space a warm and inviting feel.
Open shelving allows for easy access to everyday items, while built-in cabinetry and natural wood elements create a charming and timeless look. The floors are often made from hardwood, with a distressed finish that adds rustic charm to the room. Accessorizing with fresh flowers, potted plants, and colorful accents brings the space to life, creating a warm and inviting atmosphere for entertaining guests or preparing meals with loved ones.
This example of a cottage home features large windows that let in plenty of natural light, creating a bright and calming atmosphere. These windows stretch from the top of the walls to the surrounding natural scenery, allowing its inhabitants to bask in both beauty and warmth. Perfect for those in need of a little peace and quiet.
Family Room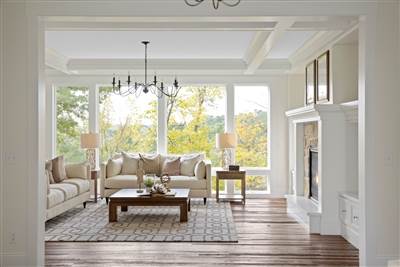 Can you picture spending Christmas morning right here? The family room in a cottage-style home is warm and inviting. It often has a cozy atmosphere with lots of natural light, wood accents, and inviting furniture. The walls tend to be painted in light shades with some exposed wood and natural textures, while the floors are usually a combination of tile and wood. To add a bit of character, there may be a fireplace or a large, decorative mirror. Other features may include comfortable seating, warm throw blankets, and plenty of bookshelves or other storage areas.
Natural light is also a key element in cottage family rooms. There may also be some unique artwork or décor pieces that bring a sense of warmth and coziness to the room. This is a great space for family gatherings, entertaining friends, or simply for relaxing.
A home is where memories are made, cherished, and shared. That is why it is so important to have a well designed family room. Your family room should be an inviting space that embraces who you are and seamlessly blends in with the design of your home. It should be resistant to the wear and tear of everyday living, while being comfortable and welcoming. It should be an area that blends in with your decor and invites you to gather with family and friends. A well designed family room is a very important part of your home--a place to make memories, relax, and just simply be.
Master Bedroom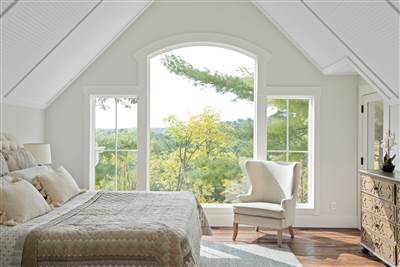 This serene master bedroom in a cottage-style home is a true escape from the hustle and bustle of daily life. Featuring natural light flowing through the windows, the room is bathed in a cozy ambiance that allows for peaceful rest. The room has been thoughtfully designed to create a relaxing atmosphere, with a clean lines and light furniture. The vaulted ceilings have wood paneling and the entire room features a beige pallet that adds a classic, yet modern look. On the floor is a cozy rug that enhances the inviting atmosphere and makes this the perfect place to unwind.
Unique ceilings are a timeless and iconic feature of cottage home style that add beautiful architectural shaping to a room. These ceilings provide a sense of openness and grandeur to the home, and draw attention to the height of the room. Moreover, arched ceilings balance the proportions of the room and add a classic, cozy look to the space.
Master Bathroom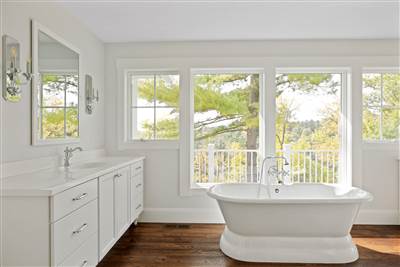 A master bathroom in a cottage-style home is the perfect combination of relaxed comfort and stylish convenience, offering an inviting atmosphere for self-care. With all the modern amenities you'd expect from a master bath, this inviting haven also features beautiful details like a white vanity area and claw foot tub with a beautiful window view. Natural light engulfs the space, with windows that are ideally placed. Wall-mounted mirrors are surrounded by vintage style sconces. The contrast of the white wall pallete with the dark flooring creates a calming atmosphere, while luxurious towels and products await, ready to pamper the homeowner.
Rooms in a cottage style home are often white because it creates a bright and airy atmosphere that makes the room feel open, inviting, and full of light. White also keeps the focus on the cozy cottage design elements such as natural wood and other soft touches that are characteristic of this home style. Additionally, white walls help to reflect light and make the space feel more spacious, which makes it a great choice for rooms of any size. Ultimately, the simplicity and tranquility of a white cottage-style room creates a space that is both inviting and peaceful.
Porch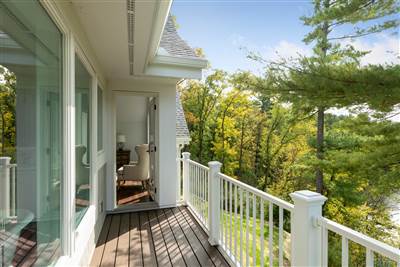 A great addition to any cottage is a classic porch, providing a pleasant outdoor living area ideal for unwinding after a long day. A porch in a cottage style home provides a wonderful space to enjoy the outdoors while still being protected from the elements. The porch can be crafted in a variety of styles and designs, with features such as a spacious deck or balcony, railings made from wood or iron, built-in seating, and decorative arches or columns. Porches can also be an inviting entrance to the home, with flowering plants, outdoor lighting, and outdoor furnishings. With these features and comforts, a cottage style porch can be a beautiful and inviting space to relax or entertain.
A porch or outdoor seating can truly make a home feel complete. With so much of our lives occurring indoors, it's important to have a place where you can step outside and take a breath of fresh air. Whether it is a quiet space to relax and enjoy a cup of morning coffee or a lively gathering place to share favorite stories - a porch or outdoor seating area can add tremendous value to your home.
Conclusion
Cottage style homes have become an increasingly popular choice for homeowners looking for a comfortable and charming living space. These quaint homes have a cozy feel and bring in additional character with their unique details, from architectural elements to landscaping. Cottage style homes are typically energy-efficient and easy to maintain, making them a great option for those looking for a practical living space with a flair of personality. Overall, cottage style homes provide an atmosphere of comfort and hominess that makes them a perfect fit for anyone looking for a warm and inviting atmosphere to make their home. Step back into time and enjoy the timeless charm a cottage style home can bring.