The Essential Guide to Crafting an Inviting and Classic Prairie-Style Home

Prairie-style homes embody an inviting warm atmosphere. This architectural style is defined by clean lines and low-sloping rooflines, inspired by the natural landscape of the Great Plains. Characterized by strong horizontal lines, these homes are built to take advantage of natural light, making them an eco-friendly choice. Defining interior design choices include natural wood finishes, with built-in cabinetry and furniture. Traditionally, earthy color palettes and mission- style furnishings created a welcoming atmosphere, while elegant crown molding and columns added a touch of elegance.
This style was originally developed in the early 20th-century by noted American architect Frank Lloyd Wright. It was the first uniquely American architectural style of what has been called "the American Century." Prairie-style homes embrace the founder's design philosophy, featuring large, open spaces, horizontal lines, and a minimal, organic aesthetic. Characteristics of this style include emphasizing a seamless blend between the exterior and interior of the home, as well as large, overhanging eaves. Inside, the interior spaces typically focus on quiet, intimate gathering places, such as cozy sitting rooms and breakfast nooks with built-in furniture. These homes are a beautiful combination of form and function, and provide a unique living experience.
Together, let's explore the features of a prairie-style home to understand why it's become a staple of the American landscape.
Kitchen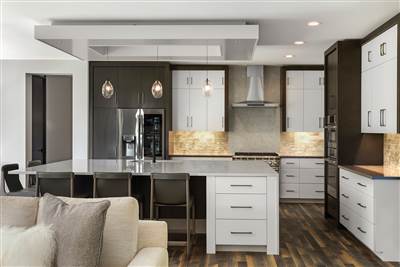 Historically, the Prairie-style kitchen offered simple shapes and a muted color palette. Over the past century, kitchens have evolved to offer more open spaces to translate seamlessly into a modern, yet authentic-looking design style. The furniture and fixtures should be as functional as possible, as the focus is on comfort and efficiency. Materials are often crafted of light natural woods, durable work surfaces with decorative glass or backsplash accents to enhance the homeowner's flair. Include stainless steel appliances and contemporary lighting solutions to contrast with the natural materials, while adding a hint of sophistication. Lastly, add charming details to the room with touches of stone, warm colors, and various textures to create a true gathering place in the home. With the right attention to details, any kitchen can capture the essence of this classic, time-honored style.
This prairie-style kitchen offers a unique blend of classic, elegant beauty and modern, inviting comfort. The walls are painted with a neutral hue, while the dark wood and light cabinets feature a flat face for a contemporary aesthetic. Completing the inviting atmosphere are hardware, fixtures, and appliances that co-exist in perfect harmony. The countertops are crafted from gorgeous quartz and feature a waterfall counter style, adding a lovely visual accent. The wire- brushed maple hardwood floor creates a lovely contrast to the light cabinetry. This kitchen has classic sensibilities with modern touches, perfect for those who enjoy a timeless yet contemporary atmosphere.
Family Room
When designing a family room in a Prairie Style home, key elements to focus within are walls and flooring. Consider natural materials such as stone, hardwood, and exposed wooden beams. The addition of a ceiling detail, such as, a box vault will embrace true Prairie Style architectural design. Choose furniture pieces with clean, simple lines in neutral and earthy fabric and upholstery. To add character to the space, consider adding built-in seating options. Accentuate with original artwork and organic accessories.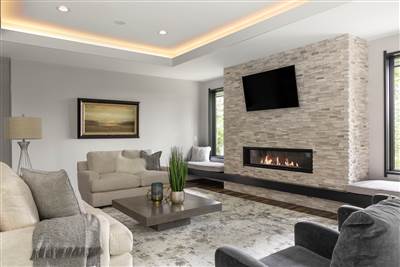 Utilize smaller spaces for added storage, such as shelving and cupboards made from wood and wrought iron. With all of these elements, you can create a warm, cozy, and inviting family room that truly conveys the beauty of the prairie style.
This contemporary prairie style family room features a linear fireplace with a neutral stacked stone finish. The furniture has been carefully selected to fit the simplistic and calming design of the room, while the subtle light valance in the ceiling provides an added touch of style.
The artwork ties in the room's use of natural shapes and earthy tone colors to complete the stylish look. This is a great space to relax and spend quality time with loved ones.
Master Bathroom
A Prairie Style home bathroom is a great space for ultimate relaxation. The details are deliberate, with neutral colors and calming finishes. The addition of soothing plants and lighting techniques helps to create a haven of relaxation, making it the perfect place to help you unwind, while still feeling like home. The result is a space that is welcoming and peaceful, creating a luxurious oasis.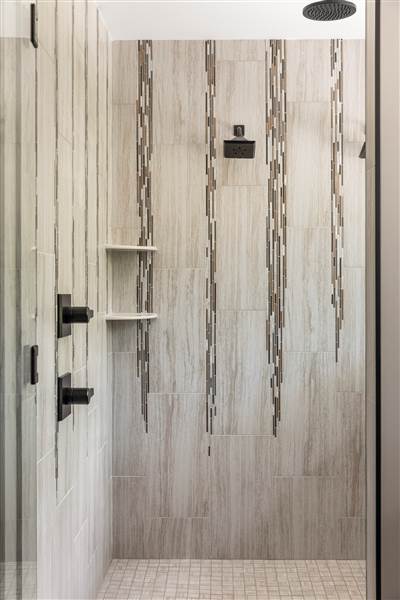 Designing a prairie-style master bathroom can be a fun and exciting opportunity to bring a touch of the outdoors into your home. Common design choices for this type of interior include incorporating natural elements like hardwood floors, natural stone accents and wainscoting, and warm, earthy color schemes. For the walls, use a combination of light tones, such as sandy hues or muted blues, to echo the warmth of the prairie.
For a truly prairie-inspired look, install a few wall sconces and use natural lighting to create a tranquil and inviting atmosphere. Additionally, incorporate details like cabinetry with simple and sleek lines and unique touches like a barn door or basket weave tiles to complete the style. With these design elements, you will create a prairie-style master bathroom that is both stylish and inviting.
This beautiful prairie-style master bathroom is a work of art. The design is intended to make a statement, and it does not disappoint. The intricate tiled motif of the shower evoke a feeling of calm with a cascading waterfall effect. This is a restorative and calming bathroom experience, perfect for relaxation and comfort.
Three-Season Porch
Opting for a three-season porch is a great way to include a natural aesthetic into your home. Choose from materials such as natural wood, stone, or tile for the exterior to create an organic feel. To further create an inviting atmosphere, consider adding large, French doors for both form and functionality.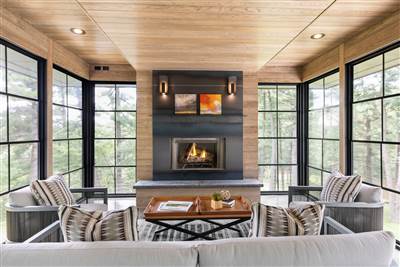 This inviting three-season porch features red oak shiplap on the walls and ceiling. A sophisticated steel surround fireplace and Sunspace windows allow extended enjoyment of the Midwest seasons. To keep up the inviting atmosphere, furniture in earthy colors and patterns bring warmth and life to the room, while grassy accents add a subtle natural touch. With the trees and green scenery outside of the windows, you'll feel like you've stepped out into a tree house.
Outdoor Living
Having access to outdoor living spaces is equally as important to the Prairie lifestyle. Enhance Prairie Style architecture by choosing materials with natural, earthy colors that blend with the environment. Accent with deep green foliage and native wildflowers, and natural hardscapes. Add plenty of outdoor seating featuring steel and wood, or deep cushioned pieces in muted natural colors.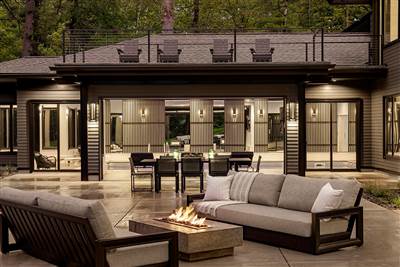 Create a large deck or patio in the center of the yard to act as an outdoor living area. The addition of a pergola will offer shade and comfort. With some imagination and careful attention, you can create a prairie-style outdoor living environment that will be comfortable for everyone who enjoys it. Finally, use lighting to create the perfect ambiance, such as candles and low voltage lighting that mimics the night sky.
The outdoor living space in this prairie home offers a tranquil escape to relax and enjoy the spectacular view of the surroundings. The tastefully chosen, low profile furniture in neutral colors add just the right hint of sophistication while the large windows offer views into the home's indoor swimming pool and sauna. The upper level of the home is fitted with a deck, providing a unique bird's eye view of the river setting for the homeowners to truly appreciate the beauty of nature.
Conclusion
A prairie-style home is a great choice for anyone who appreciates authentic design. This style of home is a unique and beautiful representation of American architecture from the turn of the 20th century. Its low sloping roof and expansive eaves, together with horizontal lines make the style stand out from other traditional homes. Prairie-style homes also feature large windows, giving the occupants a panoramic view of the surroundings, while simultaneously allowing natural light to stream in. This design style emphasizes balance, simplicity, and integrating the home into its natural landscape.